The web has too many popups and third-party scripts. It wasn't designed to respect your privacy, battery life, data cap or phone-sized screen. Take back control with JavaSnipt.
This app blocks JavaScript on any website. That means no more:
Ads
Newsletter popups
Cookie requests
Wasted megabytes of third-party JavaScript libraries
When you encounter a website with too much JavaScript, handling it is simple. On iOS, tap share → JavaSnipt → refresh. On macOS, click the JavaSnipt toolbar button → hand icon → refresh. Voilà! No more interactivity.
Alternatively, you can use JavaSnipt to block JavaScript on all websites and allow only sites you trust. It's up to you!
Some sites, like YouTube, will not work with JavaScript blocked. That's why JavaSnipt targets only sites you select.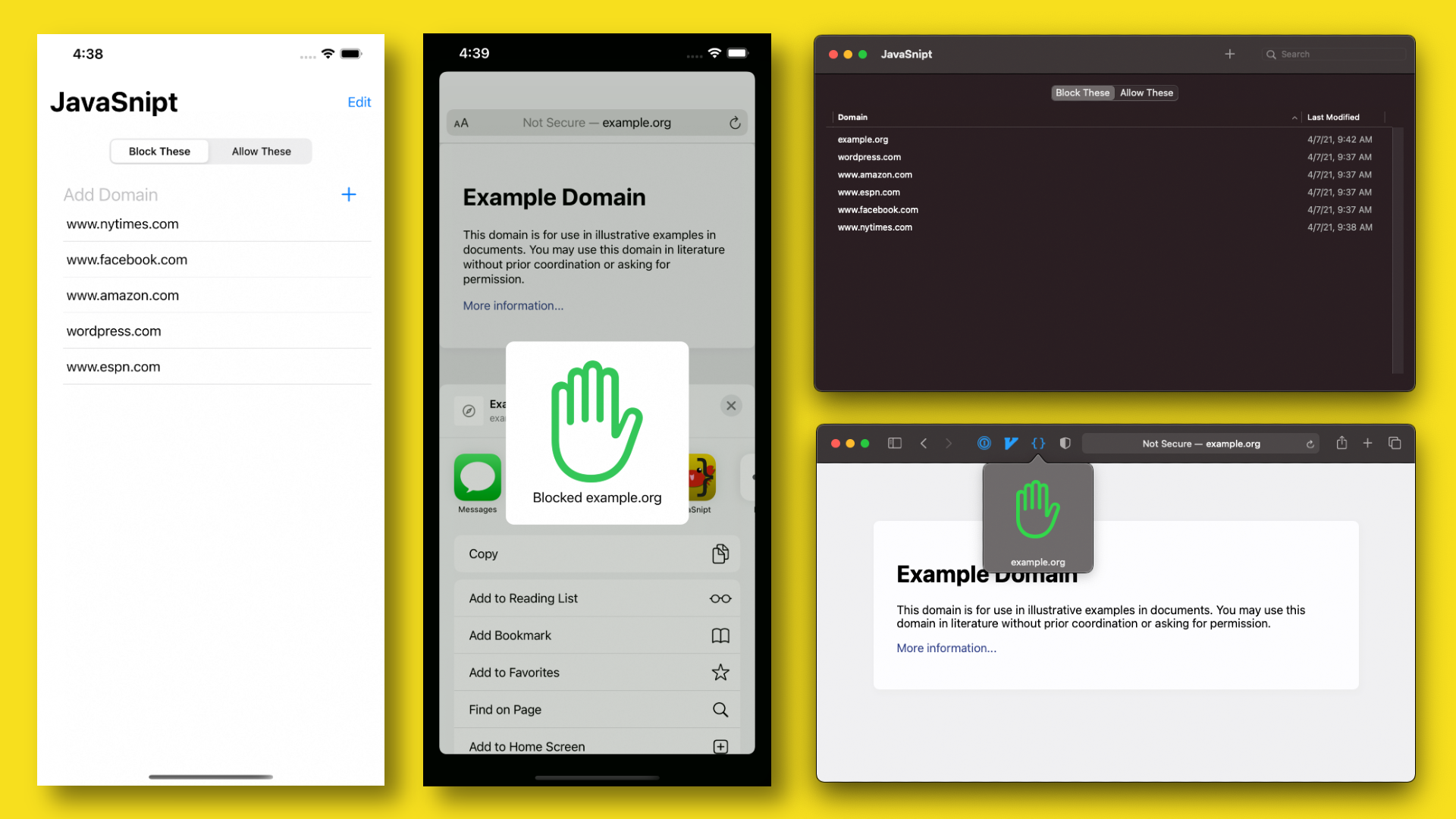 Purchasing
By purchasing JavaSnipt on iOS or macOS, you will also unlock the other platform. Your blocked sites sync between all your devices via iCloud.
JavaSnipt contains no in-app purchases. Buy once and unlock forever.
Privacy
JavaSnipt stores your data in a private iCloud store connected to your Apple ID.
It does not use any:
Tracking of any kind
Third-party software libraries of any kind
Read more in the JavaSnipt privacy policy.
Other platforms
JavaSnipt is built from the ground-up as a native Safari extension. It does not support Chrome or Firefox. For those browsers, I would recommend NoScript for Chrome and Firefox.
How it works
JavaSnipt blocks specified website domains from loading any additional JS files. Unless a website puts their JS inline in the HTML, which is uncommon, it cannot use any JavaScript.
This is the best solution I found since there is no way to disable JavaScript at the browser level per-domain.
What's with the crab?
That's Snippy, the JavaSnipt mascot. Think of this app as him snipping away the extra <script> tags.